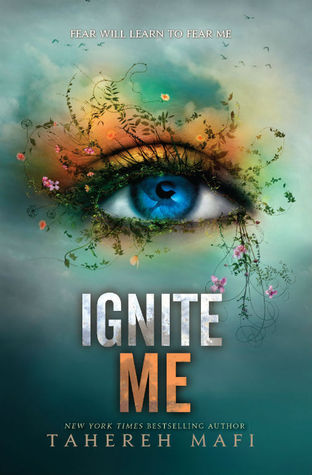 Title: Ignite Me
Author: Tahereh Mafi
Published: February 4th 2014, by HarperCollins
Series: Shatter Me book #3
Genre: Dystopian, YA
Stars:4/5
The heart-stopping conclusion to the New York Times bestselling Shatter Me series, which Ransom Riggs, bestselling author of Miss Peregrine's Home for Peculiar Children, called "a thrilling, high-stakes saga of self-discovery and forbidden love."
With Omega Point destroyed, Juliette doesn't know if the rebels, her friends, or even Adam are alive. But that won't keep her from trying to take down The Reestablishment once and for all. Now she must rely on Warner, the handsome commander of Sector 45. The one person she never thought she could trust. The same person who saved her life. He promises to help Juliette master her powers and save their dying world . . . but that's not all he wants with her.
***THIS REVIEW CONTAINS SPOILERS**
Okay, do we all really know that what Ignite Me is really about is the chemistry and romance between Juliette and Warner....and boy is there a lot!
I'm just going to swiftly brush along my opinion of the plot line. Yes, the mission is to defeat Anderson, Sector 45's Supreme Commander, and who we really only saw at the end of book 2. And yes, Juliette finally, FINALLY, comes to terms with who she is and accepts her destiny. Seriously, it's taken her two books to get there?! Yada, yada, all that is swell, but the action and defeating Anderson was all very, very, very rushed to me. I mean, after a couple of tumbles against Anderson's 'secret weapon', she just kills him really quickly. His Achilles Heel was if someone (preferably Juliette, since she's, you know, a tad bit stronger than everyone else), went up to him and just squished his ankles together, making him collapse and wither in pain. Then just get a gun and shoot the terrible person in the head. Bam! All problems solves...well in terms of getting the villain out of the picture. Seriously Juliette, if you just accepted your powers, you could of done that before and saved you a whole LOT of troubles.
But of course, you would not have got to know Warner as well as you did in this book. Literally ¾ of the book was about them, which I just LOVED! We all read it because of them. Don't lie to me.
So, Juliette finds out about Warner, the real Warner, under that entire facade he puts on. And yes, the author has an answer for every terrible thing that Warner has done. There was always a purpose. It's like the author wanted us to root for Juliette and Warner (for those who weren't already or were Team Adam. I mean come on, you should of been rooting for Warner in the beginning anyway, despite his psychotic being at first)!
There were at times when I just wanted to slap Juliette and tell her to get with Warner already and to stop hurting his adorable face. But there were also other times when I was just confused as to why they were playing cat and mouse with each other, or like two magnets, pulling and pushing away from each other. There were some occasions where Juliette resisted Warner and there were other occasions were Warner resisted Juliette.
BUT FINALLY, there came the time when Juliette fully embraced Warner and all was sun and kisses (in terms of their romance).
In terms of other characters, I've always loved Kenji and I was glad we got to see another side to him, other than him being funny all the time.
What I didn't like was the way the author portrayed Adam. I get it, it was the last book, but I think there should have been some hints in the 2nd book as to the strained relationship that was beginning between him and Juliette, as opposed to just portraying him in a negative light and a person who is just angry ALL.THE.TIME. I mean where did this anger come from?
All in all, it was a good book, mostly because I'm glad majority of the book was dedicated to Juliette and Warner. But I think Team Adam fans out there would obviously beg to differ.